2017 Hyundai Ioniq Electric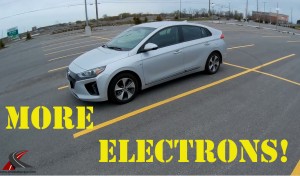 Hyundai has now joined the likes of Tesla, GM, Ford, smart, Mitsubishi and partner Kia offering a full EV solution to their fleet.  This one offers a 200km range in ideal conditions and I was able to get close to that.  My range was slightly hampered by winter tires still mounted to this vehicle, it would have gone further and would have been quieter I'm sure with the standard low rolling resistance tires.
Check out my YouTube video for all the details and some comparisons to the Bolt EV.
Don't forget to subscribe to my YouTube Channel
Follow on Google+