My 2017 Victory Octane!
Spring is here!  Well not really as it never wants to stop snowing.  But I purchased a new motorcycle for this summer and can't wait to ride it.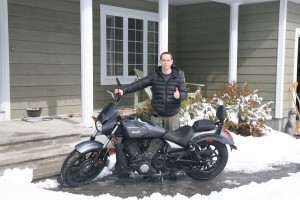 What is it?  A 2017 Victory Octane, a 1200cc V-Twin monster with 104-hp and 76lb/ft of torque.  I wasn't going to buy a new bike until next year but with Polaris pulling the plug on Victory and me finding a sweet deal on this bike north of Winnipeg of all places, I figured why not — you only live once right?
Fitted with passenger seat and backrest, upgraded rear piggyback shocks, after market loud pipes and factory tachometer it is basically loaded up with all the goodies.  A slight upgrade from my previous bike a Honda CB300F which was a great bike, although a little slow.
Follow on Google+